Foundry Fitness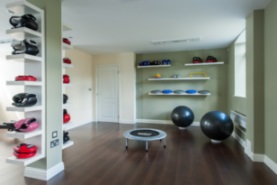 The Foundry Fitness Wellness Centre is located at 206 Stanley Road, Teddington, and approximately 5 minutes' walk from Fulwell train station or 10min walk from Teddington High Street.
It is also situated only 15 minutes from Bushy Park, which is regularly used by the Studios running club.

We have a private changing and shower room on site, making it easier for you to carry on with your day after your session and during any session at Foundry Fitness you are the only client in the building at that time, ensuring 100% privacy for you entire session.

With superb top of the range training equipment and the latest ideas for safe and effective training, Foundry Fitness offers a solution for all exercise requirements, regardless of age, ability and current fitness levels.
Testimonials
'Working closely with Stuart and Martin and the other trainers of Foundry Fitness, I have been impressed with the results they repeatedly achieve with their clients. They have an extensive knowledge in the fields of personal training and lifestyle management that helps clients achieve their goals quickly and efficiently. As expert professionals they are capable of catering for the diversity of the needs of a wide range individuals - whether training for a specific sport, to weight loss, health care management to returning from injury and continuing post injury rehabilitation to full fitness. I cannot recommend this team highly enough'.
Gino Di Matteo, Clinic Director, TW1 Physiotherapy Ltd
Current Class Timetable
Below is a list of the current classes on offer at Foundry Fitness, please check back regulary as we're always reviewing the classes we have on offer.
Hours

Monday

Tuesday

Wednesday

Thursday

Friday

Saturday

Sunday

09:30

--

--

--

Pilates

--

--

Closed

10:00

Straps, Bands & Bells

--

--

--

--

--

Closed

12:00

--

--

Indoboard Yoga

--

--

Top Up

Closed

15:00

--

--

--

--

--

--

Closed

18:30

--

--

--

--

Box

--

Closed

19:00

--

Run, Pilates

Box

Indoboard Fitness

--

-

Closed

19:45

--

--

--

Body Fuel

--

--

Closed

20:00

Box

--

--

--

--

-

Closed